Here is what Cathy Duffy, one of the premier reviewers of phonics programs, says about Blumenfeld's phonics reading program Alpha-Phonics.
Alpha Phonics
Alpha-Phonics, Sam Blumenfeld's classic phonics manual, provides comprehensive phonics instruction in a simple, straightforward manner. Rules are presented along with lists of words and syllables, and, eventually, sentences. A parent works through lessons with his or her child, working from the book. You can add extra activities, practice readers, or games if you wish. One particular extra that is very helpful is Alpha-Phonics/How to Tutor Workbook. It has fill-in-the-blank and writing activities to reinforce lessons in the Alpha Phonics book.
Alpha-Phonics has heavy-duty plastic covers and a plastic comb binding so it will lie flat while you're working through lessons. Print is very large, suitable for young readers.
The methodology is solid phonics. Blending is taught via the vowel-consonant method, with initial consonants added next: e.g., "am" taught first, followed by "Sam" and "ham." Words are taught in families (e.g., an, ban, can, Dan, fan, Jan). However, many nonsense syllables are included in the early stages to help students develop phonetic fluency. Some of the practice lists of such syllables get quite silly as students read through syllables and words like: "gab, gac, gack, gad, gaf, gag, gal, gam, gan, gap, gas, gat, gav, gax, and gaz." Students practice with quite a few such lists, but they also move quickly into reading actual sentences.
This program does not use pictures for key words as do many other programs. The print is very large and clear with no illustrations or other distractions. The intent is that students concentrate on the letters themselves so that they immediately recognize the sounds associated with a letter rather than taking an extra mental step to recall a key word associated with a picture.
Alpha-Phonics teaches 44 different sounds for the letters of the alphabet. It teaches basic phonic rules, but not so many rules as we find in other programs like Writing Road to Reading andSaxon's Phonics. You will want to use other reading material for additional practice once students have actually begun to read sentences. The publisher has a set of ten Little Companion Readersthat work well alongside Alpha Phonics. Also note that Alpha Phonics recommends (but does not require) teaching cursive in the early grades before manuscript printing.
Parents must work with children through this book, but it requires no preparation time and is a very efficient, even if unexciting, way for children to learn phonics.
While the basic program would seem tailored for Perfect Paulas or Competent Carls, the simplicity of it actually makes it a good foundational program for other learners since it is very easy to supplement with appropriate learning style activities for all students.
You can preview sample lessons at the website.
In 2001, Paradigm introduced a CD-ROM version of Alpha-Phonics the Book on CD-ROM. It contains the same instructional material as the book, but it is presented by author Sam Blemenfeld reading the instructions. The CD-ROM was sold separately for years for $39.95. Recently, Paradigm combined both products so you now receive the book and CD for the same price customers formerly paid for the book alone. This way you don't have to try to determine which method of presentation will work best in advance. You can try both!
Pricing
All prices are provided for comparison only and are subject to change. Click on prices to verify their accuracy.
Alpha-Phonics: A Primer for Beginning Readers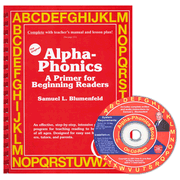 Samuel L. Blumenfeld
Phonics Reading Workbook, How To Tutor Series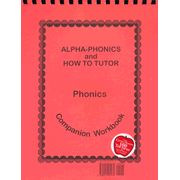 Samuel L. Blumenfeld
$19.95 List Price at Christianbook.com
Alpha-Phonics: A Primer for Beginning Readers with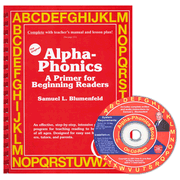 Samuel L. Blumenfeld
Alpha-Phonics: A Primer for Beginning Readers with CD-ROM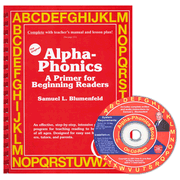 Samuel L. Blumenfeld
$34.95 List Price at Christianbook.com
$34.95 List Price at Amazon.com
$34.95 List Price at Rainbowresource.com
Choosing the Right Curriculum and

Approach for your Child's Learning Style.
---
Use our simple order page and get a complete reading, writing and arithmetic program today.
Click here for more information on Phonics